Knock Down vs. Welded Frames
Architects are responsible for specifying the type of frame for all openings within a project – there isn't a standard frame. Therefore, design professionals often have to decide which type of frame is best-suited for their project. The specification of frames and elevations is a combination of application and preference. The two common types of frames and elevations are knock down (KD) and welded.
Knock Down Frames
These frames are designed for easy assembly by inserting the metal tabs into the appropriate slots and bending them with a hammer to hold the pieces together. They are the least expensive frame option because they are shipped disassembled, allowing them to be tightly packed for shipping and jobsite storage. As a general example, a truck might be able to hold 1,000 KD frames vs. only 300 welded frames.
Standard Knock Down Frames
Standard KD frames are assembled in the field and specified for new wall construction. They generally have slots and tabs, but use standard wall anchors instead of compression anchors. These frames do not typically have visible screws after installation.
Knock Down Drywall Frames
Also called "KD pressure-fit" or "slip-on drywall" frames, they are specified for installation in existing drywall openings. They use compression anchors, and have interlocking tabs and slots in the corners. Once installed, these frames do have visible seams and screws.
Both types of KD frames are capable of meeting some fire ratings. Field welding of standard KD frames may be possible for new wall construction or existing walls at butted applications. However, field welding is usually not required for KD frames and may void the fire rating, if any.
Welded Frames
Welded frames and elevations are commonly specified for their seamless appearance and to help ensure the frames are square at time of installation. They are particularly well-suited for exterior openings and masonry walls.
Costs are higher for welded versus KD frames due to the additional labor involved in the welding and finishing process. In addition to their seamless appearance, welded frames help to reduce the amount of job-site labor required to assemble and properly install a frame.
Face Welded vs. Full Profile Welded Frames
Full profile welded frames are the most costly due to the additional welding and hand grinding that is required.
In the past, full profile welded frames were specified to provide a seamless appearance. Today, frames are mitered on precision dies and can be face welded by SDI members to provide an appearance similar to full profile welded frames. Most applications do not require full profile welding of frames, and your client can achieve a high degree of aesthetics while spending less.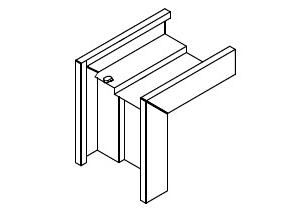 Face welded is the most common type of welded frame. The joints between the head and jamb are welded along the face of the frame at each corner on the visible side of both faces.
Full Profile Welded Frames
Also called "continuously welded" or "fully welded", the comer/perimeter joints have all elements of the frame member continuously welded including soffits, stops, rabbet, faces, and returns.
Proper Installation is Essential
Installation is critical to the longevity and appearance of all types of frames. The videos and manuals below can be referenced to ensure they are installed the right way and to assist with common troubleshooting issues.
Frame Specification Tip for Drywall
Except for slip-on construction, frames overlapping walls should have a throat dimension 1/8 inch (3.1 mm) greater than the dimensioned wall thickness to accommodate for irregularities in wall construction.
Installation & Troubleshooting
Choose Quality Frames
Always specify SDI Certified to ensure frames that look good and are built to last. That way your frames are provided by a manufacturer who has proven that their products and processes meet our standards.
It's their consistency that sets them apart from the rest — whether ordering five frames or 500, they will be true to spec.